A. Terriza, J. I. Vilches-Pérez, J. L. González-Caballero, E. de la Orden, F. Yubero, A. Barranco, A.R. González-Elipe, J. Vilches, M. Salido
Materials, 7 (2014) 1687-1708
doi: 10.3390/ma7031687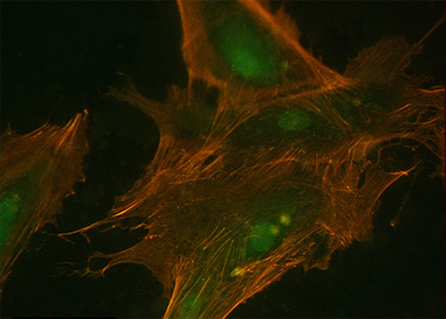 New biomaterials for Guided Bone Regeneration (GBR), both resorbable and non-resorbable, are being developed to stimulate bone tissue formation. Thus, the in vitro study of cell behavior towards material surface properties turns a prerequisite to assess both biocompatibility and bioactivity of any material intended to be used for clinical purposes. For this purpose, we have developedin vitro studies on normal human osteoblasts (HOB®) HOB® osteoblasts grown on a resorbable Poly (lactide-co-glycolide) (PLGA) membrane foil functionalized by a very thin film (around 15 nm) of TiO2 (i.e., TiO2/PLGA membranes), designed to be used as barrier membrane. To avoid any alteration of the membranes, the titanium films were deposited at room temperature in one step by plasma enhanced chemical vapour deposition. Characterization of the functionalized membranes proved that the thin titanium layer completely covers the PLGA foils that remains practically unmodified in their interior after the deposition process and stands the standard sterilization protocols. Both morphological changes and cytoskeletal reorganization, together with the focal adhesion development observed in HOB osteoblasts, significantly related to TiO2 treated PLGA in which the Ti deposition method described has revealed to be a valuable tool to increase bioactivity of PLGA membranes, by combining cell nanotopography cues with the incorporation of bioactive factors.
Osteoblasts Interaction with PLGA Membranes Functionalized with Titanium Film Nanolayer by PECVD. In vitro Assessment of Surface Influence on Cell Adhesion during Initial Cell to Material Interaction